IIM A and IIM C have released selection criteria documents – one elaborate one and one appropriate one. IIM B is yet to release its doc for this year, but we can take it that it is going to be very similar to what we saw last year – (in which case it will be neither elaborate not appropriate, in my view)
So, what do we have here?
IIMA has a very thorough process – they give priority to profile at the shortlisting level and then go to an open pot. IIM Cal does not care about UG score, is less anal about 10th and 12th marks and gives some weightage to Gender diversity. IIMB had this on its document last year  – "IIMB has found over the years that students who perform well in the academic program are typically those who have a consistently good academic record during their secondary school, higher secondary school and graduation level," So, consistent academic record is very important for IIMB (bah!)
So, if you have a skeleton in your cupboard, it is probably good bye IIMB straightaway. If UG scores haunt you, IIM Cal will welcome you with open arms ( provided all else is in good shape).
Past record/sins matter most for IIMB, least for IIMC.
So, tell us the cut-offs
For a given profile, how much should one score to have a shot at IIMs A, B and C? This is the holy grail now. When presented with this, most people would go "Good question" and nod sagely. This is expert-speak for "I am going to say something now. But truth be told, I am as clueless as the next guy who is going to speak"
But what the heck, I am going to have a stab at this. I am not going to shy away from this one. In my previous avatar, I was entrusted with picking a number out of the box and calling it "target price". So, picking a target percentile is a logical continuum from that scam. So, here goes
Play along – Let us put a structure to this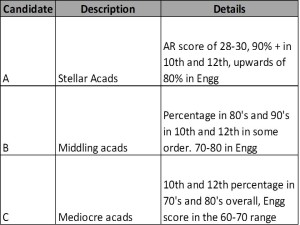 Let us have three candidates A, B and C (any resemblance to real characters is merely coincidental) who are broadly as outlined here.
If you have noticed, we have not included 'horror acads' here. This is supposed to be a fun piece, there is no room for dark comedy here.
The cut-offs would be as described in the table below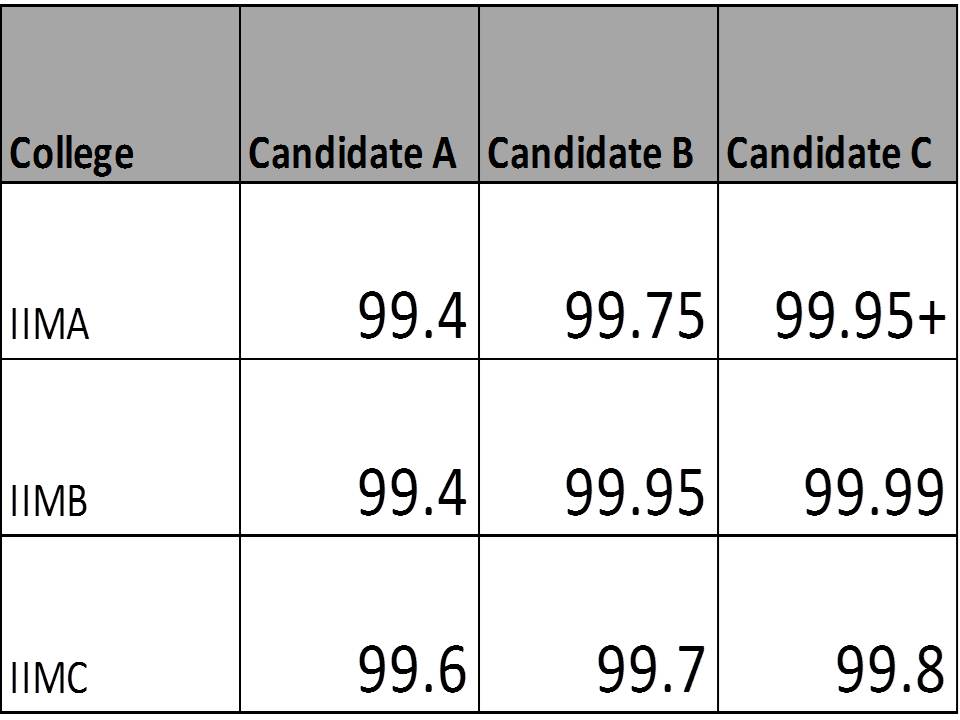 Now, why is this important?
Not a single reason. There is absolutely nothing new or critical here. This analysis is a colossal waste of time. All of us like to have the feeling of going for "hard targets". We want to get to a pay package of Rs. x lakhs, reduce 'y' kgs in 3.62 months. Having a well-defined precise number to go far might be reassuring in that sense. But it has no bearing on how you prepare. Importantly, said precise numbers could be wrong, and by a distance.
Broadly, the CAT strategy can be distilled for the two groups of people like this – If you have some gap in your academic record, get a kick ass CAT score and give yourself the best chance. If you have a stellar academic record, get a kick ass CAT score and give yourself the best chance.
Get the selection-criteria bug out of your system. Go through the documents, pore over the details, ponder about past misgivings, think wistfully about the fabulous 5th semester paper that you steadfastly refused to take seriously, about the cricket match you refused to give up on, and then when you have had your fill, draw a line under this and get back to CAT preparation. From here on, the only thing that you can control is the CAT score.
Best wishes for CAT preparation. No one holding a grievance or grudge against the system can prepare well. Dump that line of thought, log on to online.2iim.com and get your energy with some fabulously fun learning.